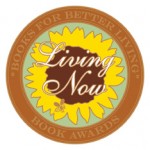 I have just learned that my novel, THE CADENCE OF GYPSIES, has won the Independent Publishers "Living Now" Bronze Medal Award. This is such exciting news.
About the Award:
The Living Now Book Awards celebrate the innovation and creativity of newly published books that enhance the quality of our lives, from cooking and fitness to relationships and mature living. The awards are open to all books written in English and intended for the North American market. The gold, silver and bronze medalists in this year's Living Now Book Awards offer a list of books representing the fastest-growing segments of book publishing today, and the Living Now Book Awards help demonstrate the importance of these books to readers and their vitality in the marketplace. The awards are presented by Jenkins Group of Traverse City, Michigan. Jenkins Group has been involved in book packaging, marketing and distribution since 1988, and is dedicated to promoting books that improve readers' lives, bring families together, and make the world a safer, healthier place.
THE CADENCE OF GYPSIES was also reviewed by the Smithsonian Institute for its List of Best Books and included on Amazon's List of Best Reads.
Brief Description:
Dara Roux, abandoned when she was 7 years old by her mother. Exceptionally gifted in foreign languages. Orphan.
Mackenzie Yarborough, no record of her parents or where she was born. Exceptionally gifted in math and problem-solving. Orphan.
Jennifer Torres, both parents killed in an automobile accident when she was 16. Exceptionally gifted in music and art. Orphan.
Three high-spirited 17 year olds, with intelligent quotients in the genius range, accompany their teacher and mentor, Carolina Lovel, to Frascati, Italy, a few weeks before they are to graduate from Wood Rose Orphanage and Academy for Young Women. Carolina's purpose in planning the trip is to remove her gifted, creative students from the Wood Rose campus located in Raleigh, North Carolina, so they can't cause any more problems ("expressions of creativity") for the headmaster, faculty, and other students – which they do with regularity. Carolina also wants to visit the Villa Mondragone where the Voynich Manuscript, the most mysterious document in the world, was first discovered and search how it is related to a paper written in the same script she received on her 18th birthday when she was told that she was adopted – a search, more dangerous than she could have imagined, that will fill in all of the missing pieces of her past and help each of her students to discover something meaningful within themselves.