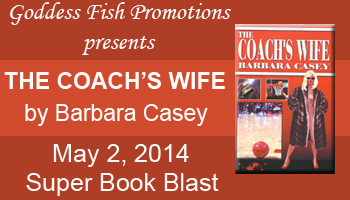 My mystery/suspense novel, The Coach's Wife, has just been released in paperback and is available through Amazon.com, BarnesandNoble.com, and all leading book retailers.  Reviews and comments throughout the United States and several foreign countries will be posted on my virtual blog tour at www.GoddessFish.com as well as on each of the links below on Friday, May 2. I will be awarding a $25 Amazon gift card to a randomly drawn commenter, so I hope you will be able to stop by and visit.
Barbara
The Internet Web Hosts who will be carrying the tour are:
1: Laurie's Thoughts and Reviews
2: Our Families Adventure REVIEW
3: Books Direct
4: The Book Review REVIEW
5: Room With Books
6: Paranormal Romance and Authors That Rock REVIEW
7: Beckstar Reviews REVIEW
8: Deal Sharing Aunt
9: Welcome to My World of Dreams
10: Beer, Books and More 
11: My Devotional Thoughts
12: The Pen and Muse Book Reviews
13: Brooke Blogs
14: Book Bling
15: Booklover Sue
16: Book 'Em North Carolina
17: The Write to Read
18: Sexy Adventures Passionate Tales
19: Writer Wonderland
20: Andi's Book Reviews
21: Literary Lunes Magazine
22: Reviews by Crystal
23: Bookgirl Knitting
24: Blood Moons and Nightscapes
25: The Cerebral Writer
26: My Odd Little World
27: Tina Donahue Presents
28: Hope. Dreams. Life… Love
29: Dawn's Reading Nook
30: Queen of the Night Reviews
31: It's Raining Books
32: Straight from the Library
33: Long and Short Reviews
Another deafening roar exploded from the coliseum, and when it did Marla threw down her partially smoked cigarette and ground it into the polished tile floor with the toe of her shoe. Quickly she reached for another cigarette from the opened pack in her small red handbag. She lit it, sucked the smoke into her mouth, held her breath, coughed, and then slowly released it. Marla didn't smoke, but when she paced up and down the hallways of basketball coliseums, puffing on cigarettes seemed appropriate. It gave her something to do with her hands, and it helped keep her sane.
Marla Connors, recently married to head basketball coach Neal Connors, travels with her husband to Albuquerque, New Mexico, where the Piedmont State University Coyote team is playing in the NCAA Finals. Marla has not been accepted by the Coyotes, that loyal bunch of fans who follows the university team, partly because she is almost twenty years younger than Coach Connors and a divorcée, but also because the fans are afraid she will distract her husband from his duties as head coach. They see her as someone who married Coach Connors just for his money. Only Gale, the older wife of assistant coach Stu Simmons, goes out of her way to be a friend to Marla.
The Coyote team is plagued with problems from the very beginning of the season, and when they finally manage to reach the NCAA Finals, it's even worse. Their center is caught using drugs, Athletics Director Charlie Morgan, who is also in Albuquerque for the games, makes a pass at Marla in her hotel room, and Coach Connors comes down with the flu. No one believes that State can win the big game.
With so much happening, Marla can't shake the feeling that something evil is taking over her life. She tries to convince herself that it is emotional anxiety left over from the abuse she experienced during her first marriage to Dr. Martin Andrews and that the stress from the tournament has brought it once again to the surface. She soon learns, however, that the evil is real and it threatens not only everything she loves, but her very life.
Illegal drugs, illicit affairs, murder, and scandal that shakes the entire university system are woven inextricably into Marla's life until eventually she comes face to face with her real tormentor. It is only then that she realizes the full depth of her love for her husband–and his love for her.